Freedom from BMS vendor monopoly
The most common complaint of all BMS owners is vendor monopoly with their proprietary software. BMS suppliers continue to renew maintenance contracts, without any competitive bid, sometimes at unreasonable rates. This is not the case anymore.
NG has helped several customers in the Middle East to achieve "freedom" from the vendor monopoly and thus saved costs on maintenance, upgrade, expansion and spare parts. The BMS systems are upgradable to "open" software, which can be maintained by customers themselves or remotely via online services, as well as with open competitive bidders. Currently we are maintaining various BMS systems supplied by Siemens, Honeywell, Johnson Controls, Schneider, Trend, Alerton and so on. NG has a growing list of customers, shifting from the monopoly of BMS vendors to 'smart maintenance' saving millions for our customers, without compromising output. Moreover, customers benefit from faster response, energy saving, technology upgrades and enhanced FM.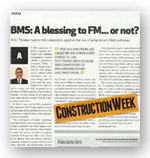 Read ConstructionWeek Article